Ready for better, faster air sealing for multi-family homes?
Schedule AeroBarrier installation.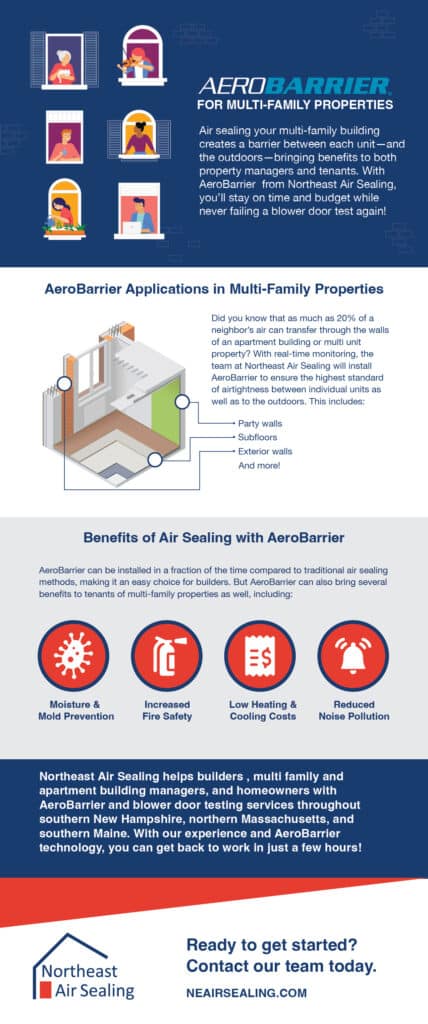 Air sealing your multi-family building creates a barrier between each unit—and the outdoors—bringing benefits to both property managers and tenants. With AeroBarrier from Northeast Air Sealing, you'll stay on time and budget while never failing a blower door test again!
AeroBarrier Applications in Multi-Family Properties
Did you know that as much as 20% of a neighbor's air can transfer through the walls of an apartment building or multi unit property? With real-time monitoring, the team at Northeast Air Sealing will install AeroBarrier to ensure the highest standard of airtightness between individual units as well as to the outdoors. This includes:
Party walls
Subfloors
Exterior walls
And more!
Benefits of Air Sealing with AeroBarrier
AeroBarrier can be installed in a fraction of the time compared to traditional air sealing methods, making it an easy choice for builders. But AeroBarrier can also bring several benefits to tenants of multi-family properties as well, including:
Moisture & mold prevention
Increased fire safety
Low heating & cooling costs
Reduced noise pollution
Call the Leading AeroBarrier Installer in New England!
Northeast Air Sealing helps builders , multi family and apartment building managers, and homeowners with AeroBarrier and blower door testing services throughout southern New Hampshire, northern Massachusetts, and southern Maine. With our experience and AeroBarrier technology, you can get back to work in just a few hours!
Ready to get started? Call our team today at 603-415-1115 or contact us online.